El Nino Vs. La Nina: The battle of 2011
By: Met. Kevin Puricelli
Updated: January 28, 2011
Its amazing what a difference a year can make. Last year the word drought was certainly nixed from a Texoman's vocabulary. This year, you have to make an effort not to hear the word multiple times in a week's span. Other areas, like the east coast, have seen record breaking precipitation, but why? The simple answer is La Nina. Today we will analyze a characteristic of La Nina, the jet stream.
Here is a picture of a typical jet stream pattern for a La Nina pattern: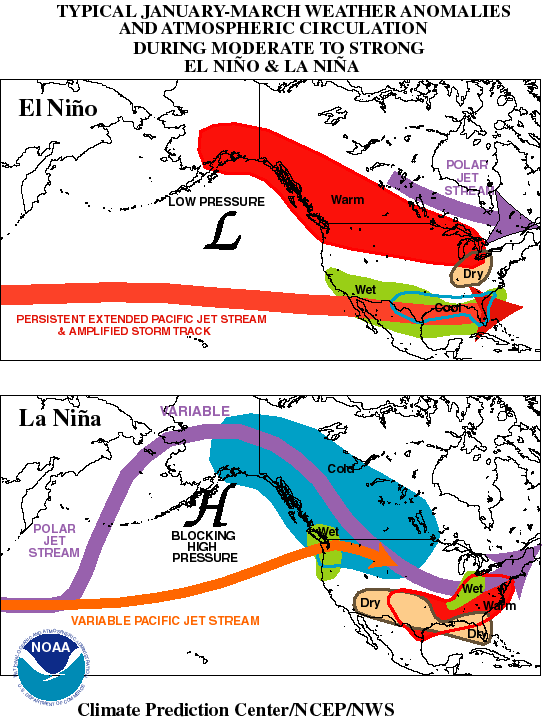 Notice the jet stays well north of Texas and dips down across the east coast. At the base of the trough (dip of the jet stream) is where low pressure most commonly forms. This is also where low pressure systems will be at their strongest; hence why the east coast has seen so much precipitation this season. Also, the east coast has the ocean and land in its geography. This creates a large temperature gradient and abundant moisture which gives a low pressure system fuel to intensify (these systems are typically called Nor'easters and we will go into more detail about this phenomena in future segment). Here in Texas, we haven't seen the jet stream dip into our area much this season which hasn't allowed Texoma to tap into Gulf moisture. Where we have seen precipitation is where extremely cold air moves into the region and most of the water content in the air essentially squeezed out. Unfortunately, the precipitation hasn't amounted to much. The other way we have seen some precipitation is when the jet enters the United States at a more southerly position (i.e. California) on the west coast where we receive moisture off the Baja peninsula. That pattern was more prevalent last year. Hence, why we had abundant precipitation a year ago.